MK3 Golf/Jetta Gas & Diesel "De-Power" Steering Kit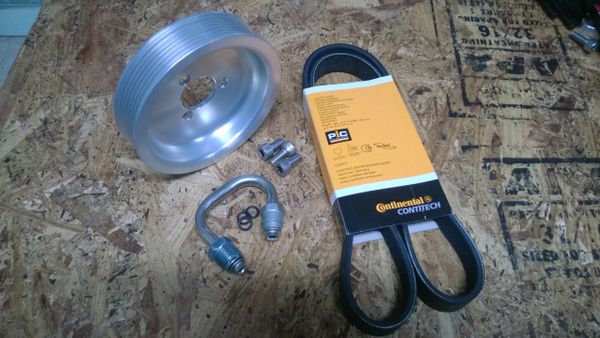 MK3 Golf/Jetta Gas & Diesel "De-Power" Steering Kit
This simple product started it all. By connecting the power steering rack pressure and return ports together, the rack is changed to manual operation.  Here are some benefits of doing the conversion:
Performance: horsepower is freed up by 

eliminating the parasitic drag the power steering 

pump has on the engine.

Transitioning: the TRW and ZF power steering rack 

and pinion has a "longer" gear set, compared to the 

VW manual rack. This means there are less turns of 

the steering wheel required to move the wheels 

lock-to-lock.  

This is great for any type of racing 

where quick transitioning is required, such as autocross.

Fuel Economy: by eliminating the power steering pump you will increase highway fuel economy.  The pump 

wastes energy during highway driving, continually circulating fluid when the rack doesn't even require it to assist 

the driver.

Simplify: reduce the number of components in your engine bay. It will have a simpler and cleaner look 

Save money: if there is a problem with the power steering system, repairs are often extremely costly, especially for 

the rack and pinion. This is a much less expensive alternative!
There are several groups of kits available, which all include instructions. All recirculation lines are hand-built using stainless tubing. They are mandrel bent using professional tubing benders.  Each line is test fitted before leaving our facility.
Various kits are available for both 2.0L ABA and VR6.  Make sure you choose your desired configuration when adding to cart.  (Note: the pulleys shown in the pictures are not currently available)
For the VR6's, configurations are available to delete PS+AC or PS only.  The PS+AC delete and PS only delete kits come with the recirculation line, and corresponding belt.  If you want to delete AC only, you will only need a new belt (contact us). 

For the 2.0L ABA's, a PS+AC delete configuration is currently available.  The PS+AC delete kit comes with the EAA recirculation line and a brand name belt.  You provide your own water pump pulley (many people use the VR6 pulley).  
Note: The ABF serpentine alternator conversion kit compliments our steering de-power kits perfectly.  See the following: 
http://eaaengineering.com/products/4-cylinder-abf-serpentine-style-alternator-conversion