MK4 Golf/Jetta 1.8T/2.0L Power Steering Hose Kit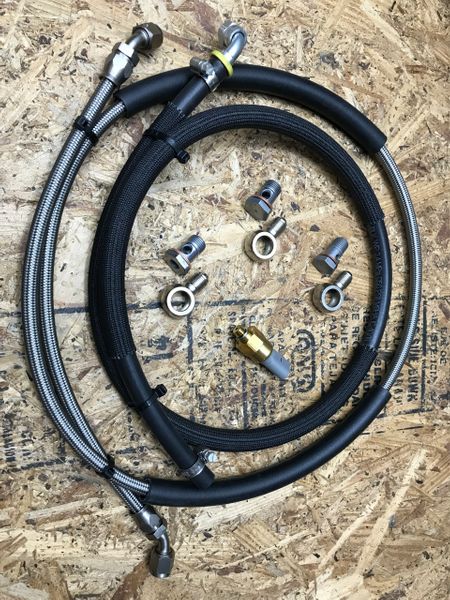 MK4 Golf/Jetta 1.8T/2.0L Power Steering Hose Kit
NEW DESIGN!  See individual hose listings for complete details.
Note: For the high pressure hose connection at the pump: Most cars came with a banjo bolt that has a threaded hole in the top of it for a pressure sensor.  Please select this option during checkout, if you have it and plan on keeping it.  If you do not have it, or are eliminating it, select the solid banjo bolt option.  We also carry new pressure sensors and will be adding a fluid option in the future.  The pressure sensor is shown in the picture, but is NOT included by default.  Everything else pictured is included by default.
Add optional Magnefine power steering filter for the additional protection required to ensure your power steering system remains trouble free.

Note 2: The high pressure hose *may* work for 1.9L diesels (the pump is mounted higher on diesels, compared to 4 cyl. gas engines.  At this point, it has NOT been verified, so purchase at your own risk!  The reservoir is in the same location for 4 cyl gas and diesel, so the return line should work fine-but again, this has not be confirmed.
Email us if you need anything custom, we can support custom lengths, hose ends, etc.!