MK3 VR6 Golf/Jetta Vibra Technics Engine Mount Set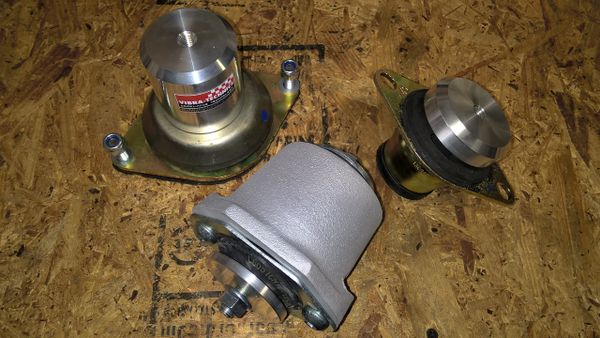 MK3 VR6 Golf/Jetta Vibra Technics Engine Mount Set
Road level group of upgraded Vibra Technics engine mounts for MK3 VR6 Golfs and Jetta's w/manual transmissions.  This kit includes the front (VAG950M) and rear (VAG885M) engine mounts, and transmission (VAG875M) mount.  This set is for MK3 AAA VR6 applications.
Keep engine movement at bay with this set of upgraded mounts.  Vibra Technics is the original supplier for VW motorsports engine mounts.  All Vibra Technics mounts utilize rubber instead of polyurethane.  Use of these mounts will result in improved power delivery, while maintaining near factory comfort and durability levels, something polyurethane is incapable of.  You will be extremely happy w/the performance of these mounts, compared to other offerings out there.
We typically keep a few sets of these in stock for immediate delivery via USPS Priority to all lower 48 USA states.  Hardware is not included, unless shown.
Note: If you are in search of the race mounts (not recommended for road use), please contact us and we will order them in for you.  Some race mounts are in stock.