MK3 VR6 (AAA) Aluminum Pulley Kit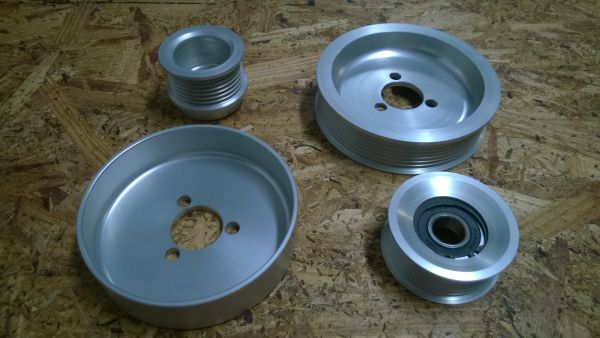 MK3 VR6 (AAA) Aluminum Pulley Kit
Low mass CNC machined T6061 billet aluminum pulley kit for the 12v AAA VR6 motors found in the MK3 Golf and Jetta, and SLC Corrado. This kit includes pulleys for power steering pump, water pump, alternator and serpentine belt tensioner. The water pump pulley also fits 2.8L 24V BDF engines, as well as the 3.2L R32.
We use a classic and simplistic design, complemented by a clear anodized or black anodized finish, which offers the customer flexibility. Premium grade hardware for alternator, power steering, and H2O pulleys is included.
Note: the tensioner pulley is mounted w/a REVERSE thread setup.