MK4 Golf/Jetta Gas & Diesel (BEW) "De-Power" Steering Conversion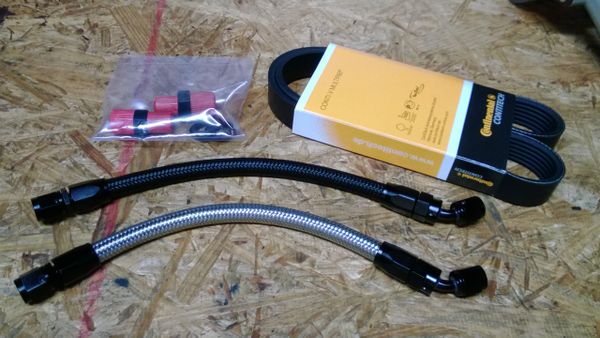 MK4 Golf/Jetta Gas & Diesel (BEW) "De-Power" Steering Conversion
The MK4 depower kit is available in synthetic rubber AN racing hose with choice of a stainless or black nylon braided cover. The kit uses high quality black anodized aluminum AN hose end fittings, and EAA custom built aluminum AN adapters. By joining the power steering rack pressure and return ports together, your MK4 ZF rack is changed to manual operation!
Here are some benefits of doing the conversion:
Performance: horsepower is freed up by eliminating the parasitic drag the power steering pump has on the

engine.
Transitioning: the TRW and ZF power steering rack and pinion has a "longer" gear set, compared to the VW

manual rack. This means there are less turns of the steering wheel required to move the wheels lock-to-lock. T

his

is great for any type of racing where quick transitioning is required, such as autocross.
Fuel Economy: by eliminating the power steering pump you will increase highway fuel economy. The pump

wastes energy during highway driving, continually circulating fluid when the rack doesn't even require it to assist

the driver.
Simplify: reduce the number of components in your engine bay. It will have a simpler and cleaner look




Save money: if there is a problem with the power steering system, repairs are often extremely costly, especially for

the rack and pinion. This is a much less expensive alternative!
This kit deletes both PS & AC on 4 cyl. gas (1.8T & 2.0L) and diesel (PD & BEW only). VR6 owners can choose PS & AC delete or PS delete only (see note below). NEWLY ADDED: PS pump idler to keep A/C!
This kit includes everything you will need to delete your power steering pump, lines and reservoir, and convert your power rack into a manual mode of operation:
Stainless or

nylon braided bypass line




NEW custom knurled 'easyfit'

adapters (no tools required!)




High quality belt (usually Continental)



Note: The VR6 PS delete only option results in the AC compressor rotating in reverse direction compared to the OEM configuration. Most are reed valve type compressors, and this won't matter. However, it is up to the customer to verify this. EAA not responsible for any damages.