MK4 Golf/Jetta 1.8T/2.0L Power Steering High Pressure Hose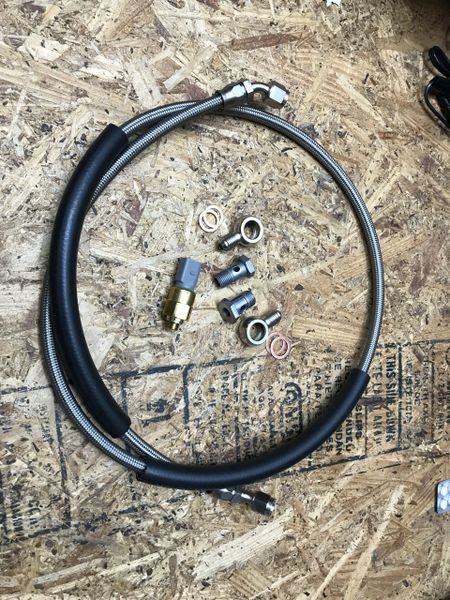 MK4 Golf/Jetta 1.8T/2.0L Power Steering High Pressure Hose
NEW DESIGN!  We have spent significant time optimizing the high pressure hose design using our MK4 1.8T Jetta.  It now includes a 45 deg end at the pump end for improved clearance of the molded pump feed hose, and two protective rubber sleeve sections to account for new routing: one for the length that runs along the front of the car alongside the air pump, and the other for the section that is now tucked up alongside the frame, above the transmission.  We also are now offering the return line as well.  See new listing!  Both hoses available in kit form.  
Note: These are the steering rack feed and return hoses.  If you are searching for our popular hard line replacement kit (the hard lines that reside on the rack itself), go here.
----------------------------------------
This is the high pressure hose that installs between the power steering pump and the steering rack.
The power steering system subjects the feed hose to a lot of stress due to high pressures and pressure fluctuations.  If you're tired of replacing the stock hose or your original is just old and deteriorated, this high performance version is for you.  Made from power steering system specific Teflon extruded -6AN hose with a SS braided cover and steel ends for the ultimate in durability! This will truly be the last power steering hose you will ever purchase!
This hose 'kit' includes everything you need to install it between your power steering pump and steering rack, including 2 sets of banjo bolts and adapters (not currently pictured).  The only add-on item is the pressure sensor.


Note: Most cars came with a banjo bolt at the pump that had a threaded hole in the top of it for a pressure sensor.  Please select this option during checkout, if you have it.  If you do not have it, or are eliminating it, select the solid banjo bolt option.  We also carry new pressure sensors.